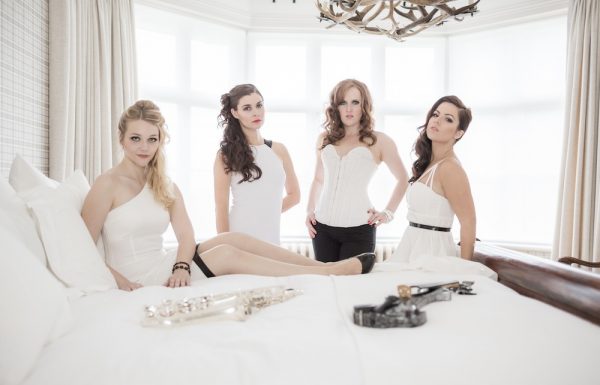 We are incredibly excited to announce that Sahara – our incredible Electric String Quartet – will be performing as a support act for the wonderful Katherine Jenkins at a fundraiser concert organised by Famous Cow Productions. The event will take place on the 20th May at Royal Jersey Showground, Trinity.
Sahara is an electric string quartet consisting of an electric string trio with soprano saxophone, set up by saxophonist Sarah Louise Ings in October 2007. This exciting group are known for thinking outside the box and are constantly evolving. They perform a mix of tangos and classical crossover music, alongside other popular songs written and produced by Sarah, backed up by high-impact choreography.
Sahara will be playing their crossover Classical Set prior to Katherine Jenkins's performance and after the concert, the group's saxophonist will be playing alongside a DJ at the after-show party.
Katherine Jenkins Performs in Aid of Jersey Hospice Care
Katherine Jenkins is an award winning Mezzo-Soprano classical-crossover artist. Her albums have been greatly successful and she performs very frequently in her own concerts, alongside others and for charity events, such as Live 8, The Royal British Legion's Poppy Appeal and Children in Need. This month she is once again using her beautiful voice for a wonderful cause.
This concert will be in aid of Jersey Hospice Care, an amazing organisation that provides the best possible palliative and end-of-life care. The hospice offers both in- and outpatient care, with a focus on empowering patients and carers to feel more in control of their conditions, and also one-on-one and group support for both patients and their loved ones.
Sahara, the boundary-crossing electric string quartet will be in town for just two days so make sure you catch them while they're there! If you are interested in hiring Sahara please contact us.
Be sure to check this incredible musical event, for such a worthy cause.