How To Choose the Perfect Wedding String Quartet
A wedding string quartet is one of the most popular live music ensembles to hire for weddings. Your wedding day is one of the biggest days of your life and it is important to us that we help you select the right musicians to hire for your wedding. We understand that you want your wedding to be unique to you, which is why we have a range of wedding string quartets available to hire. To help you with this special decision, we've put together a list of our favourite string quartets available to hire in London and the UK for weddings throughout England and Europe.
Traditional Wedding String Quartet Hire
For wedding couples looking for a classical feel to their wedding music, then this female string quartet is a perfect choice. Performing traditional classical wedding  music ideal for your ceremony music and wedding breakfast. For those of you wanting a mix of classical and pop music, we can add something for everyone, playing more lively pop music for your drinks reception.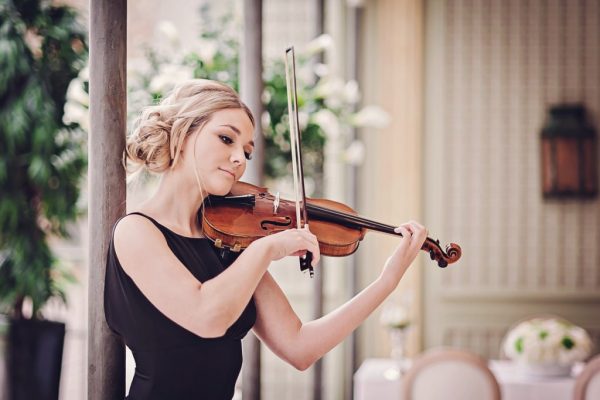 Wedding String Trio Hire
A fantastic alternative to the classical wedding string quartet, this wedding string trio are smaller and perfect for more intimate weddings. These three talented girls can perform all the traditional wedding music including romantic classical pieces, and if you so wish, can move into lighter, more popular music for the drinks reception entertainment.
Pop String Quartet Hire
The Pop String Quartet is perfect for wedding couples looking for a string quartet with a difference. The Pop String Quartet is available to hire for weddings performing all your favourite pop music arranged for string quartet. Of course, for your ceremony music,  this string quartet can include more traditional live wedding music and tailor their performance to suit you and your wedding guests.
Electric String Quartet Hire
Sahara is a string trio with flute/saxophone performing an elegant background music set including your wedding favourites, jazz and pop music. Our electric string quartet also have the option to perform a high impact choreographed show or improvise alongside a DJ for your evening wedding party. We advise Sahara perform acoustically for their background set and on electric violins for their show.
Wedding String Quartet Music
Nothing says romance and elegance more than Pachelbel Canon in D. Pachelbel Canon in D is a popular piece to be played as you walk down the aisle by our live string musicians. If you have any particular requests for wedding ceremony music, just let us know!
String Quartet hire doesn't need to be just for your wedding ceremony either, they can be used perfectly to entertain your guests before your wedding ceremony and during your drinks reception, performing light background music. Later on in the evening our musicians can provide the perfect entertainment with up tempo pop and rock classics for your guests to dance the night away too.
For more information on any of the string quartets list contact sarah@musiciansinc.co.uk / 0207 237 8050.